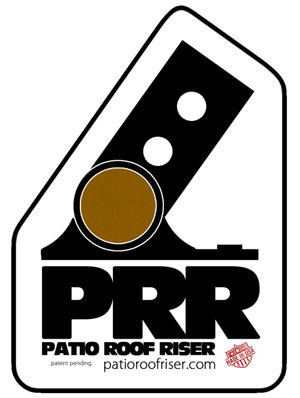 Patio Roof Riser (PRR) offers a simple solution for a common problem!  Building a roof to cover a deck or patio has historically required posts being mounted to the existing roof.  Cutting into your roof costs time and money, and there is a potential for leaks!
Patio Roof Riser was created by Bryan Marlow, after 30 years of facing this same problem while building custom deck and patio covers.  Patio Roof Riser is an adjustable-pitch mounting bracket for patio roofs, so you can easily mount your posts to any pitch in minutes with no alterations.  Patio Roof Riser saves you time and money and looks great doing it!  PRR is proudly manufactured in the USA.
Visit the Lumber section to see IWP's offering of Timbers to use when constructing your patio cover!
| Product Description | Finish | Information |
| --- | --- | --- |
| Patio Roof Riser Hardware | Black Copper Vein Powder Coat | Adjustable pitch |
| Decorative PRR Bridge Washers | Black Copper Vein Powder Coat | 8 Washers used per riser |