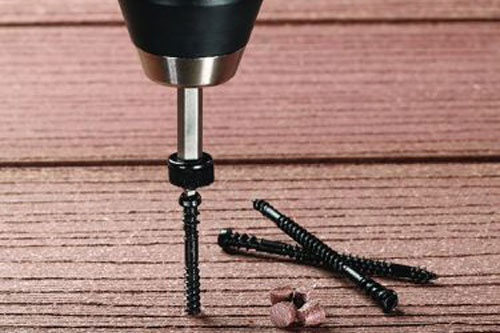 When it comes to deck fastening… Just ask the FastenMaster!  FastenMaster is a pro-driven, USA based manufacturer of structural wood screws, composite deck screws, hidden deck & trim fasteners, hidden deck clips, and much more.
The FastenMaster Cortex  System and Tiger Claw hidden deck fasteners are two great options to consider for a fastener-free deck surface.
The Cortex Hidden Fastening System is a fast & easy way to hide fasteners in composite decking boards and fascia.  Cortex Decking Hidden Fastening System offers a strong connection between the deck board and joist and can be applied across the whole deck, used just at the first and last board, around the perimeter and for stairs. Cortex is available for both wood and steel framing systems. The Cortex Fascia Hidden Fastening System is engineered to allow fascia to expand and contract and is made from Trex fascia board to ensure a perfect match.
Recent Cortex product enhancements include:
TORX® ttap® Drive System: This system is almost impossible to strip-out. In addition, the stability button keeps the fastener straight through installation.
Modified Fastener: New thread design reduces installation torque and dramatically increases fastener strength.
Stronger Setting Tool: Optimized for extreme pro contractor use. Stronger bit material and industrial grade felt will enable you to install 350 fasteners on one Cortex Setting Tool.
Collated Plugs:  plugs are available collated on a strip so you won't drop plugs and the grain is lined up just right!
The Tiger Claw TC-G Clip System is another fast & easy way to hide fasteners on grooved decking.  Specifically designed to work in 5/4" decking boards, TC-G clips work in pre-grooved deck boards.  The clip's sharp prongs bite into the top of the groove for strong holding power and the stainless-steel screw ensures a lasting connection between deck  board and joist.
Available in a hand driven or pneumatic gun installation method
Spacer tabs on the clip automatically gap the decking 3/16" for a consistent look
Approved for use in saltwater applications and ACQ or chemically treated lumber
The TC-G reduces wood splitting, wood rot and board cupping. Comes with a 25-year warranty.
FastenMaster Guard Dog Screws are a versatile exterior wood screw used for a variety of applications including softwood decking, railings, stair stringers, deck frame blocking, dimensional headers, pergolas and more.  It is fully tested, fully guaranteed in pressure treated lumber, cedar, redwood, and chemically treated lumber.
Versatile head style can be used with the PoziSquare Drive, #2 square drive, and Phillips drive
Corrosion and UV Resistant
Sharp threads quickly penetrate lumber
Product Description
Available Sizes
Information
Cortex for Trex Decking (wood framing) – 2-1/2"
100 LF
All Select Colors
All Transcend Colors
Cortex Collated Strips for Trex Decking
100 LF
All Transcend Colors
Cortex for Trex Fascia – 1-3/4"
50 LF
All Transcend Colors
Cortex for Trex Decking (steel framing) – 1-5/8"
100 LF
All Transcend Colors
Tiger Claw TC1S for Cedar, Redwood, PT
50 Sq Ft
Coated Steel
Tiger Claw TC2S for Cedar, Redwood, PT
50 Sq Ft
Stainless Steel
Tiger Claw TC3S for PVC, Mahogany
50 Sq Ft
Stainless Steel
Tiger Claw TCG for Grooved Decking (w/screws)
50 Sq Ft
Stainless Steel
Tiger Claw TCGL for Grooved Decking (for Pneumatic Gun – no screws)
50 Sq Ft
Stainless Steel
Tiger Claw Pneumatic Gun
500 Sq Ft
Tiger Claw Pneumatic Screw Pack
500 Sq Ft
Coated or Stainless Steel
Guard Dog Wood Screws – 1-5/8, 2", 2-1/2", 3"
75, 350, 1750 ct
Coated Steel
Guard Dog Wood Screws – 3-1/2"
75, 350, 1350 ct
Coated Steel
Visit the Fasteners page for more great products from FastenMaster!