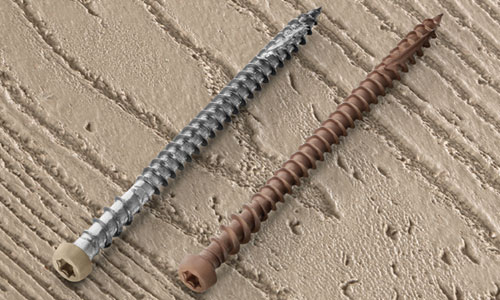 Starborn industries takes fastening decks to a new level.  With  a complete line of color matched composite deck screws hardwood deck screws, state-of-the-art fascia and pro-plug fastening systems, and innovative tools and bits Starborn has what it takes to put it all together.
Cap-Tor® xd screws are specifically designed to provide a clean, smooth and uniform finish in composite and PVC decking. Cap-Tor xd is approved for use with all major deck brands and features deep star drive recesses, undercut heads, reverse threads, tri-lobular shanks, auger tips, and are available with either a color matched, epoxy-based polymer resin coating or in color matched Headcote® stainless steel.
The Deckfast® Fascia System includes the fascia tool and specially designed, color coated, fascia screws available in Headcote® stainless steel or epoxy coated carbon steel.  The Fascia System is designed to accommodate the expansion and contraction common to many composite and PVC fascia boards. The pre-drilling tool creates an over-sized hole for the fascia screw, so that the fascia board hangs from the screw and can expand and contract without putting a large amount of force on the fastener.  Fascia screws feature star drive recesses and are ACQ approved. Follow the decking manufacturer's recommendation when selecting either stainless or epoxy coated fascia screws. The Fascia System has been evaluated and approved for use by major decking manufacturers, including Trex. See decking manufacturer's installation guides for changes to application instructions.
The Pro Plug® System is a great hidden fastening solution for PVC and composite decking, wood decking and PVC Trim.   It's easy-to-install and  available for leading PVC & composite deck brands and a range of wood species.  The plugs are made from the actual decking material for an excellent match.  The Pro Plug tool for composite decking drives the screw to the perfect depth below the surface, leaving just the right opening for the plug.  The Pro Plug tool for wood predrills and counterbores the effortlessly match the system's screws and plus.
Starborn also offers the Smart-Bit for wood, designed to pre-drill and countersink in decking and general woodworking applications. The tool features a pre-set countersink, a free spinning stop collar to protect the work surface, and replaceable Powerbolic® fluted drill bits that cut through decking more than twice as fast as standard wood bits.  Smart-Bit® Deck Screw Depth Setter is designed to make fastening decks, drywall, and general screw setting easier, faster, cleaner and with uniform results: perfectly set screws every time. The tool is adjustable so that it can be used with many different screw types and sizes, and features an Auto-Stop™ mechanism that sets the screw at the target depth without stripping the screw recess. A free spinning stop collar with rubber O-ring protects the work surface from damage or marking.
Deck Matcher Online Color Tool
Ask IWP about Pro Plug Tools, Fascia Tools and Smart Bits for your next project!!
| Product Description | Available Sizes | Colors | Notes |
| --- | --- | --- | --- |
| Captor xd Composite Deck Screws #10 x 2-3/4" T-20 Star Drive | 100 ct., 350 ct., 1750 ct. | #31, #34, #37, #39 (SS only) #43, #53, #54, #55, #63, #64, #65, #71, #73, #81, #82, #87 (epoxy only) | Available epoxy coated or grade 305 stainless steel |
| Fascia Screws #9 x 1-7/8" T-20 Star Drive | 100 ct. | #31, #34, #37, #39 (SS only) #43, #53, #54, #55, #63, #64, #65, #71, #73, #81, #82, #87 (epoxy only) | Available epoxy coated or grade 305 stainless steel |
| Teks Select Screws for Trex Elevations 5/16" 10-16 x 3/4" | 100ct., 500 ct. | | For steel to steel connections |
| Metal Composite Deck Screws #10 x 1-5/8" T-20 Star Drive | 100ct., 350 ct., 1750 ct. | #34 (100, 350 only), #39 (100 only), #53, #54, #64, #65 (100, 350 only), #71, #73 | Epoxy coated |
| Headcote Trim Head Wood/PVC Screws #7 x 1-5/8" T-20 Star Drive | 100ct. | #34, , #37, #81 | Grade 305 stainless steel |
| Headcote Trim Head Wood/PVC Screws #8 x 2-1/2" T-20 Star Drive | 100ct., 350 ct., 1050 ct. | #34, #37 (100, 350 only), #73 (1050 Only), #81 | Grade 305 stainless steel |
| ProPlug System for PVC/Composite Decking (plugs & tool – no screws) | 375 ct. | All Trex Transcend Colors All Trex Select Colors Azek PVC Silver Oak, Dark Hickory, Mahogany, Coastline | |
| #10 x 2-3/4 Epoxy Fastener (for use with Pro Plugs) | 375 ct. | | You may also use standard CapTor xd fasteners |
| Pro Plug System for Wood Decking (plugs, tool & screws) #8 x 2-1/2" | 350 ct., 1050 ct. | Ipe Hardwood | Grade 305 stainless steel |
| Construction Screws - Trim Head with Nibs #9 x 1-5/8", 2", 2-1/2", 3" T-17 Drive | 100 ct., 500 ct. (1-5/8", 2"), 75 ct, 250 ct. (2-1/2", 3") | #62 – Tan | Epoxy coated |
| Construction Screws – Flat Head with Nibs # 8 x 1-1/4", 1-5/8", 2" T-20 Drive | 100 ct., 500 ct. ( 1-1/4"), 1-5/8", 2"), 3500 ct. (2"), 5000 ct. (1-5/8") | #62 – Tan, #84 – Red, #57 – Gray | Epoxy coated |
| Construction Screws – Flat Head with Nibs # 9 x 2-1/2", 3", 3-1/2" T-25 Drive | 100 ct., 250 ct., ( 1-1/4"), 1-5/8", 2") , 2000 ct. (3"), 2500 ct. (2-1/2") | #62 – Tan, #84 – Red (2-1/2", 3" only) , #57 – Gray | Epoxy coated |
| Construction Screws – Flat Head with Nibs # 10 x 4", 5", 6" T-25 Drive | 100 ct., 250 ct. (4"), 30 ct. (5", 6") | #62 – Tan, #84 – Red (4" only) , #57 – Gray | Epoxy coated |