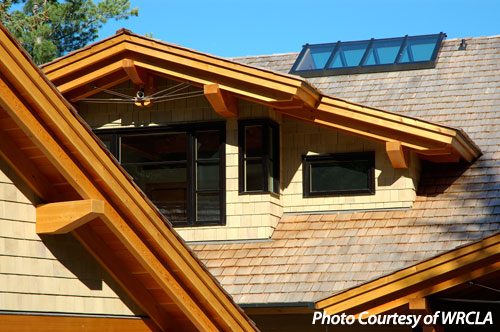 For a beautiful and natural complement to Western Red Cedar Siding, consider Western Red Cedar Trim & Fascia Boards!
Cedar trim boards are available in a variety of grades and textures to enhance any design aesthetic. At IWP we stock clear and tight knot cedar trim and fascia in a variety of dimensions.
Clear boards are specified for when a clean, high quality is required and knotty boards offer a more rustic appearance. IWP stocks cedar trim and fascia surfaced one side, two edges (S1S2E), but other finishes and grades are available via special order.
| | | |
| --- | --- | --- |
| Western Red Cedar STK Green Boards - S1S2E | Western Red Cedar STK Kiln Dried Boards - S1S2E | Nature Trim Western Red Cedar - Clear Finger Jointed Primed |
| 1 x 3 | 1 x 3 | 1 x 2 |
| 1 x 4 | 1 x 4 | 1 x 3 |
| 1 x 6 | 1 x 6 | 1 x 4 |
| 1 x 8 | 1 x 8 | 1 x 6 |
| 1 x 10 | 1 x 10 | 1 x 8 |
| 1 x 12 | 1 x 12 | 1 x 10 |
| 5/4 x 4 | 5/4 x 4 | 1 x 12 |
| 5/4 x 6 | 5/4 x 6 | 2 x 3 Sill |
| 5/4 x 8 | 5/4 x 8 | 5/4 x 3 |
| 2 x 8 | 5/4 x 10 | 5/4 x 4 |
| 2 x 10 | 5/4 x 12 | 5/4 x 6 |
| 2 x 12 | 2 x 4 | 5/4 x 8 |
| | 2 x 6 | 5/4 x 10 |
| | 2 x 8 | 5/4 x 12 |
| | 2 x 10 | 45 Degree Bay Corners |
| | 2 x 12 | 2 x 2 |
| | | 2 x 4 |
| | | 2 x 6 |
| | | 2 x 8 |
| | | 2 x 10 |
| | | 2 x 12 |
| | | 90 Degree Outside Corner |