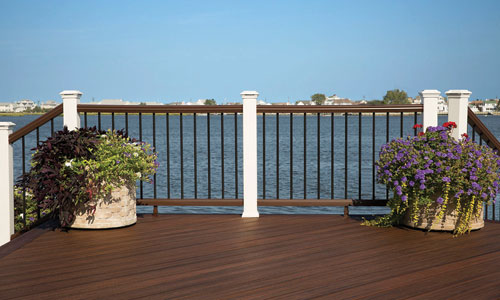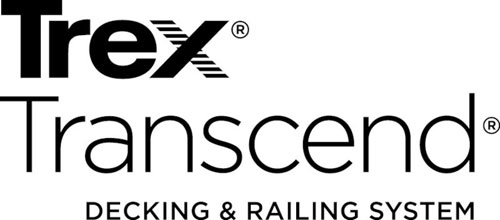 Trex Transcend railing offer a wide variety of colors and component styles to make your outdoor space uniquely yours.  Mix and match for a truly custom look that combines beauty with durability and sustainability!
Trex's composite components are made with 40% recycled content, and all Trex railing systems are backed by the Trex 25-year Limited Residential Warranty
Trex railing won't rot, warp, peel or splinter.  Spend time with your family enjoying your deck instead of working on it!

| Product Description | Available Sizes | Colors |
| --- | --- | --- |
| Post Sleeves & Accessories | | |
| Composite Post Sleeves (fits over a 4 x 4 wood post) | 39", 108" | All Transcend Railing Colors |
| Composite Post Sleeve Caps (Flat or Pyramid) | 4" x 4" | All Transcend Railing Colors |
| Composite Post Sleeve Skirts | 4" x 4" | All Transcend Railing Colors |
| | | |
| Top & Bottom Rails | | |
| Crown Top Rail | 6', 8' | All Transcend Railing Colors |
| Universal Top/Bottom Rail | 6', 8' | All Transcend Railing Colors |
| Always used as bottom rail. Also used as top rail when you are capping the rail system with a composite or wood deck board. | | |
| | | |
| Balusters | | |
| Square Composite Balusters | 36", 42" | All Transcend Railing Colors |
| Round Aluminum Balusters | 36", 42" | Black, Bronze or White |
| Square Aluminum Balusters | 36", 42" | Black, Bronze or White |
| | | |
| Infill Kits (based on selected Baluster type) | | |
| Horizontal Infill Kit (for square composite, round aluminum, or square aluminum | 6', 8' | All Transcend Railing Colors |
| Stair Infill Kit (for square composite, round aluminum, or square aluminum | 6', 8' | All Transcend Railing Colors |